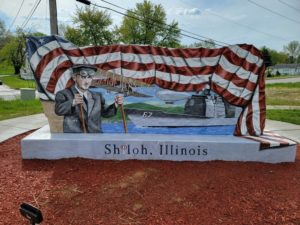 The ILLINOIS TREKKERS invite you, your family, and your friends to join us for a walk-through Shiloh, Illinois. Settlers were first recorded in the area about 1785. You will walk to the new Freedom Park to see the first "Freedom Rock" in the State of Illinois. The murals highlight area military history as a way of Honoring America's Veterans.
DISTANCE:  5k, 10k, 15k & 20k walks will be offered.
The first 5k loop takes you to the Engelmann Farm. One Engelmann brother published the first newspaper in Illinois and the other Engelmann brother, a botanist, helped develop the Missouri Botanical Garden. Today the Engelmann Farm is a St. Clair County Park. The farm has a paved path, two historic homes, and a family cemetery. The second 5k walk will take you on town streets, through Shiloh Valley Cemetery and through the Shiloh Community Park where you will see the September 11 Memorial.
 Start anytime between 9:00 a.m. and 11:00 a.m.  Walk or run at your own pace. You must be finished by 2:00 p.m.
START LOCATION: June's Breakfast + Patio, 430 South Main Street, Shiloh, Illinois. Parking at Corpus Christi Catholic Church, Corner of Shiloh Station Road & 2nd Street in Shiloh. If entering address into a GPS, please use O'Fallon, Illinois for location.
INFORMATION CONTACT: The point of contact is Muriel Barber & Dale Gerlach Phone 618-560-0420 Email: [email protected]