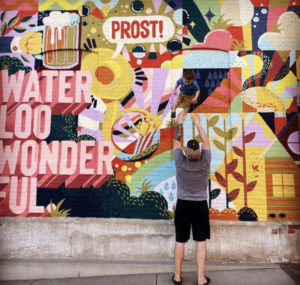 WATERLOO WONDERFUL WALK
Prost! The Illinois Trekkers are celebrating health and wellness on Saturday, June 4, 2022, with a Waterloo Wonderful Town Walk. Routes are mapped for distances of 5, 10 or 15 kilometers, along city sidewalks and in the Lakeview Park near Schorr Lake. Participants may walk at their own pace and distance.
Register for the walk from 8-10:30 a.m. at the County Courthouse Pavilion located at 100 South Main Street (corner of S. Main and East 3rd) in Waterloo. Registration fee is $3.00 for all participants.
Special features along the walk routes include tours of the historic Peterstown House stagecoach stop, the Monroe County History Museum with educational exhibits of the area's history, numerous structures along the routes that reflect the community's German heritage, and a bit of cardio on the Lakeview Park path. Additional information is available at http://www.illinois-trekkers.org.
The Illinois Trekkers walking club (www.illinois-trekkers.org) is a member of the national America's Walking Club (www.ava.org). Walk routes are offered across the United States for leisurely family-oriented, noncompetitive exercise through scenic, historic or interesting areas.
The Illinois Trekkers Waterloo Wonderful Walk is planned to coordinate with Celebrations! by participating merchants and restaurants (www.facebook.com/ExploreWaterloo), the GLOW Community Yard Sale (www.waterlooglow.com), and a special presentation by Father Paul Wightman, "The Marvels Under Our Feet! A Look at Fogelpole Cave" at 1:30 p.m. at the MoCo History Museum (www.monroecountyhistorymuseum.org).
Prost! Come, join the Illinois Trekkers in celebrating Waterloo Wonderful on Saturday, June 4.