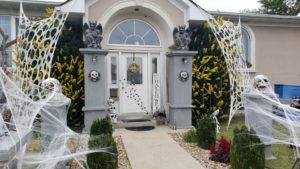 This Millstadt home is getting ready for Halloween.
The Illinois Trekkers invite walkers to walk under the watchful eye of the "Old Tin Man" water tower in Millstadt. The "Tin Man" is closely connected with the identity of Millstadt since the 1930s and is one of the few remaining hemispherical bottom and conical roof water towers in Illinois. It is visible from many vantage points while you are on the village walk. In addition, as you walk through town, collect Halloween treats at businesses and services. Most exciting, there will be a Tin Man Costume Contest. Dress up as a Tin Man (the water tower or from the Wizard of Oz!) and you could win a great prize!! Judging will be done by a member of the Friends of the Old Millstadt Water Tower. Come join us!
Millstadt Walk Brochure 2019 (2)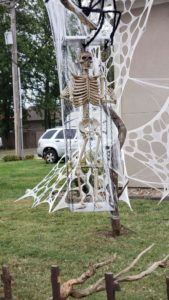 Watch out for this swinging skeleton.